I usually bring English language interviews on the first Wednesday of the month, but I couldn't resist the opportunity to interview Elise Edmonds, whose debut novel, Where Carpets Fly, has just been published. Elise is an active presence on Scribophile (a great place for writers, if you don't know it, you should check it out) and Twitter, and I got to know her through these channels. I love YA stories and I love fellow writers so helping Elise to promote her book seemed just the right thing to do.
About the book:
Where Carpets Fly – A Young Adult Fantasy Adventure Novel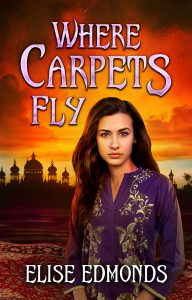 Mystery and adventure meet in a magical land of flying carpets, vibrant cities, and seafaring folk. Follow Elina Faramar's journey from the village flying carpet shop to magic school in town. What's her new magic teacher hiding? Why won't anyone discuss the nearby, volatile country of Pallexon? The situation turns to a nightmare when friend Kara is mistaken for a spy. Can Elina's wits and magic save Kara and unravel Pallexon's secrets?
 1. How long did it take you to finish the manuscript of Where Carpets fly? What was the easiest and most difficult part of the writing process?
I spend two and a half years working on Where Carpets Fly. Although I didn't spend the time exclusively on it – I wrote some short fiction as well, and towards the end of the process I began to work on the sequel.
This was my first novel (the first I've ever completed, that is!) and in general, I didn't have much idea of structuring a plot when I first wrote the book. I had to learn about creating tension, using pace, and how to develop characters. Following that, I had to learn how to edit and revise over and over. It's been a huge learning curve, and I had numerous great critique partners on the website Scribophile who helped me out and made it what it is today. So yes, basically, everything was difficult at first!
What made the process easier was having friends writing their novels at the same time. When you have people you can commiserate with, chat to, and who will help motivate you, it really makes a difference and that's what finally inspired me to finish a novel.
2. Did you need to do a lot of research? If yes, what was the most interesting piece of information you found?
One of the reasons I chose to write fantasy was that it doesn't rely heavily on research (unlike, say, writing a historical novel). However, there were certain things I did have to research to make sure they came across as realistic.
So I did quite a bit of research on what ships looked like. I found a great nautical website that had boats with about the same tech level I needed (similar to pirate ships):
If you ever need any nautical or pirate research, it's a great site to check out.
The other interesting research I did was on how to navigate through the jungle and how to survive in that environment. I ended up watching videos of people who spent their time in the jungle for research purposes or fun, and it was quite fascinating.
3. Which of the characters is closest to your heart? Why?
Elina, my main character, is my favourite. I wouldn't say that she's meant to be me, but at her age (14), I had similar characteristics – such as a desire to be independent and a desire to travel and do my own thing. Strong female characters have always drawn me in, so I found that in writing Elina, I was writing the character I would have wanted to read about myself when I was a teenager.
4. If you had a magic carpet which could take you anywhere, where would you go?
I'd love to travel around Europe more – I think flying carpet would be the perfect way to travel and take in all the sights!
5. Which was your best travel experience and why?
When I was 19, I spent three months in Canada. I arranged the trip myself and it was my first solo travel experience. I stayed with family, met all my cousins that I hadn't seen for years, and got a job. It was a taste of freedom and being grown up, and I had the best summer ever!
6. A bit about woman behind the story: When you are not writing, how do you like spending your free time?
I work full time, so a lot of my free time is spent doing writing. Outside of that, my main hobby is Zumba. Zumba is a dance aerobic class based on contemporary Latin American music and moves, and I go three times a week. It's a lot of fun, and really good for relieving stress! I also enjoy geocaching, and going to the local wildfowl park to watch birds. Most days I have to spend a lot of time on the computer, so it's good to have hobbies that get me up and about.
7. Are there themes you're trying to bring out in your book that you feel are underrepresented?
I purposely wanted to have strong female characters in my book. Although diversity in fantasy books, especially contemporary and young adults ones, is improving, there are still way more male characters represented in the genre. I think it's good to show girls who take action, are smart and resourceful, and have goals in their lives other than those involving the opposite sex!
8. Do you plan on working an illustrator in the future? Do you have a favourite artist and what sort of artist do you imagine would be best for your story?
I think it would be quite fun to work with an illustrator at some point. I read Scott Westerfeld's Leviathan series recently and that has amazing illustrations. It made me think that it could be something that works well for young adult books. However, that would be something for further down the line. (i.e. if I make any money!)
A friend sent me a drawing that Chris Riddell (the current British Children's Laureate) had done of a girl on a flying carpet. I think he would be any amazing illustrator for my book, but alas, he is way out of my league! I can dream, right?
9. Do you have a soundtrack to write to? What would be the theme song for Where Carpets fly?
I always listen to music when I'm writing, (I subscribe to Spotify) but I don't have specific songs that go with particular writing. When I'm writing fantasy set in another world, Earth pop music doesn't really seem to gel with the novel in my head.
10. Where Carpets fly is self-published. Have you considered trying to find an agent/publishing house for it or you had always wanted to self-publish it? What would be the most important advice you could give to authors who would like to follow suit?
Before I wrote the novel, I hadn't really considered publishing. I assumed, like so many people do, that self-publishing was what you do if you can't get a 'proper' publishing deal. When I joined Scribophile (the writing critique site), I was fascinated to see self-publishers there who had chosen to publish that way and doing well out of it. I began to learn the differences between the different types of publishing and decided that the ability to control what I did, when it was published, and how much it cost was very appealing. In my day job, I'm an accountant, so setting up my own publishing business was pretty straight-forward, and for me, it was the right decision.
I'd encourage other authors who want to self-publish to make contacts within the indie author community and do a lot of research to ensure it's the right choice and to have support along the way. I've met lots of indie authors on social media and writing forums, and learnt from the blogs and articles of many others. I suggest people get involved with other writers way before they publish their first book, because networking is a key part of being a self-published author. But it's worth it and very satisfying to bring a book to market all by yourself!
Author Bio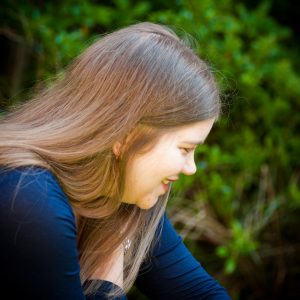 Elise Edmonds is a new writer from the South-West UK. Reading and writing have always been her doorways into another world—a way to escape and spend time walking with wizards, flying with fairies and dealing with dragons. By day she is a finance professional, and in her spare time she pursues writing as a creative outlet, to put the magic back into everyday life. In addition to reading, Elise enjoys watching movies, playing the piano, and going to Zumba classes. Her greatest loves are God, her husband, her family and friends, and her two beautiful cats.