I used to be a coffee girl. Macchiatos was largely fuelled by my love for coffee. Except that I never especially liked the taste, I was drinking it for the caffeine. Fun fact, when I lived in Hungary I used to drink coffee with a LOT of milk and three sweeteners and in France I slowly converted to all black. Largely because they don't bother with sweeteners and my ex didn't drink milk and I couldn't really drink it alone, so I slowly gave up on it . But when I go to cafés, I usually go for Latte Macchiato. Except when I work in Unicorners (a cute co-working space that has become my HQ since the summer) where the baristas already know the order of my drinks: cappuccino, filter, filter. I don't know a place where they know your coffee habits feels like home .
In December I bought myself a Damman Freres advent calendar and it changed my relationship with tea forever.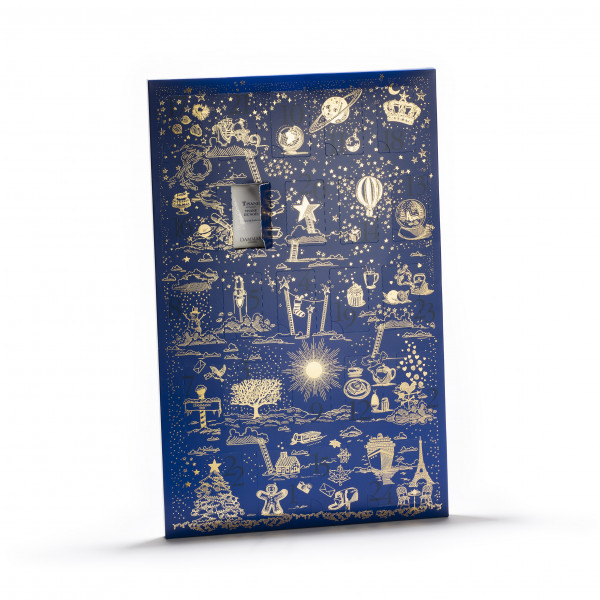 I enjoyed discovering a new flavour combination each day and I have inagurated many new favourites. I was so enamoured with the experience that I bought myself a discounted Pukka advent calendar in February, but I had to discover that herbal teas were not my jam. However, targeted Instagram ads opened my eyes to the existence of the La Thé Box which is a thematically curated tea experience and I bought myself two beautiful boxes in the sales. I wasn't disappointed.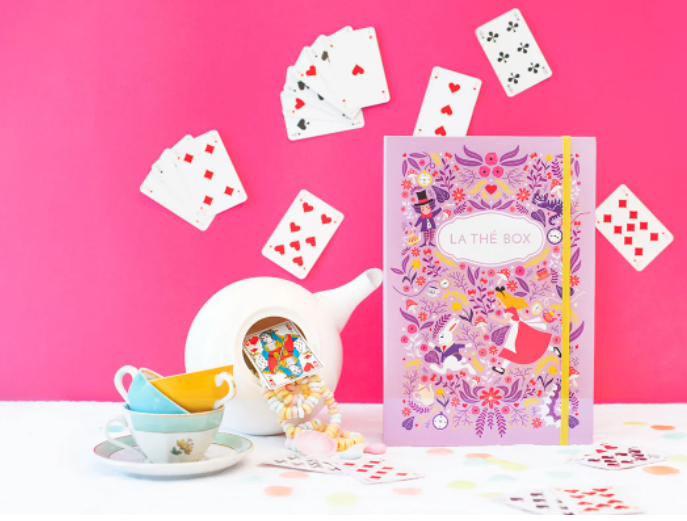 I will treat myself to a new box when my finances settled a little. Okay, this was a lie. Because I spoke about it I went to check out their site and bought the Circus box. I haven't bought any tea since January!
In the February break I went to a tea making workshop because I'm trying to discover as many new things as possible because they are always an inspiration for my writing. It was a great experience. I had a vision when I arrived, I wanted to make a blend that would capture the mood of one of my stories. When I saw the ingredients proposed, I knew immediately that I would like to make Moon Over Pale Water.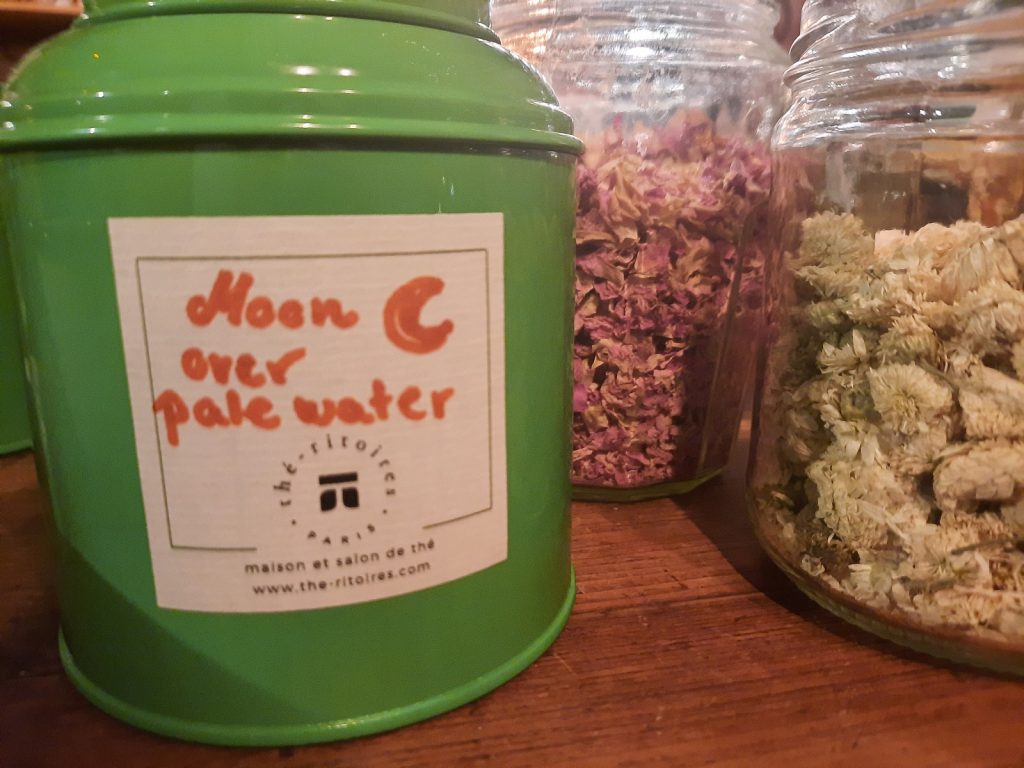 I wished for a light and fresh taste, flowery and pale like sunrise over a lake. I chose chamomile, rose and jasmine and a Korean green tea as a base.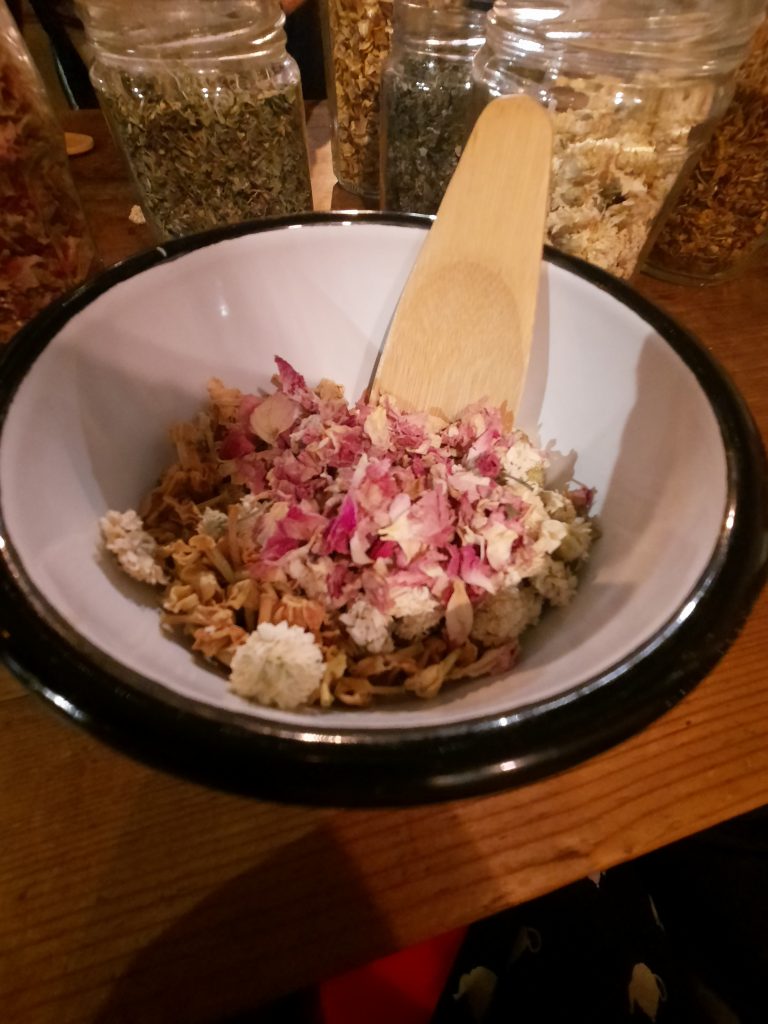 Because I'm not only into building universes, I also like to intertwine reality and fiction so I sent Nathan to a tea making workshop too where he made a tea called Moon Over Pale Water. (Pouf, storyception!)
Here are some tea quotes 🙂
It has always been
here
lying inside,
a handful of leaves
like old tea
bergamot
and smoky mornings
faint and waiting.
You touched something
in me
like water
boiling
translucent, burning.
Leave it time
and I can
pour my soul into your cup.
< From my poetry collection: Shells of Ourselves>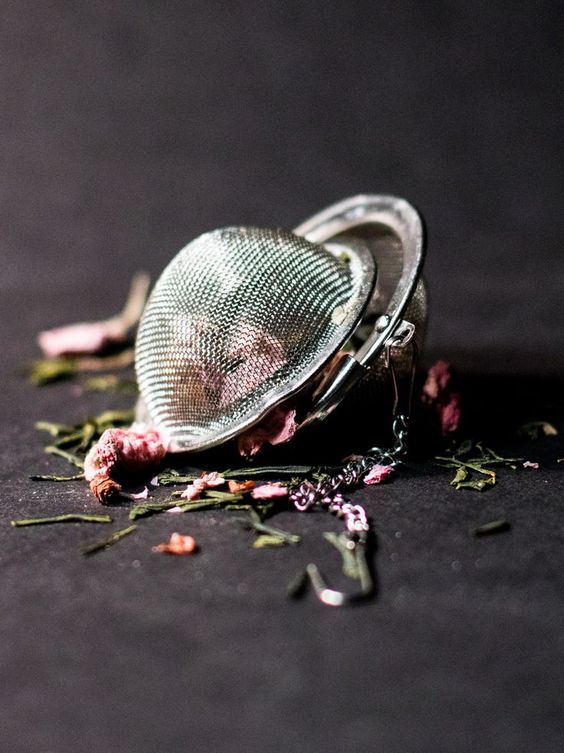 He stepped next to me and got the tea box from the cupboard with zero effort. I shook my head in mock jealousy.
"What would you like to drink?" I asked, and reached to take it from his hand.
He hugged the box to himself.
"No, this time I'm going to be the one serving you a drink."
"Alright. I'll tip you well."
He smiled as he examined the content of Tommy's tea collection. There were almost as many flavours as Moonhares.
"He has a whole teahouse to himself," I said, taking a peep. "I wonder why he comes to the café at all."
"For the good company. Moonhares feels more like home than home sometimes."
"That's true."
"Now I'm going to guess your favourite tea," Isaac announced triumphantly.
"Alright."
"Let me see." He looked me deep in the eyes, his pupil a large black pool in the endless blue.
"Jasmine!" He produced a tea bag from the box, hanging it between our faces.
I followed its movement with my eyes.
I didn't like jasmine. I found it obnoxious, reminding me of the cool girls in school who wore heavy perfumes and had shiny-perfect hair.
"How did you find out?" I smiled at him and he looked incredibly happy with himself.
"I don't know! It's a small flower that I find very nice. Also a lovely addition to any moon garden."
<Macchiatos>