Today I'm interviewing Janeen Ippolito, an author, experienced author coach, editor, teacher, and the Fearless Leader (president) of Uncommon Universes Press, about her new book Lawless. My blog is also part of the very exciting and extremely cool Scavenger hunt, so keep your eyes open!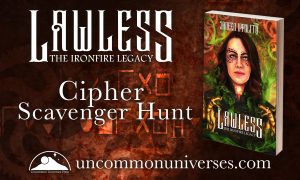 Welcome Janeen, it's nice to have you here 🙂
1.Where do you get your inspiration?
My inspiration comes from a lot of places! Anything in my environment, anything I read, anyone I speak with can inspire something that I need to write about. A lot of inspiration for Lawless came from steampunk aesthetics and history. And dragons just make things cooler.
2.What can you tell us about your imaginary reader as you write? Do you write with a specific reader in mind?
Usually, yes, and that reader can change depending on the genre I'm writing. For Lawless I was aiming for steampunk fans, dragon fans, and people who enjoy complex characters in awkward situations. Actually, that last element is one commonality no matter what genre I'm writing! Fast-paced stories with complex characters who are often in awkward (re: humorous) or very difficult situations. That pretty much sums up a lot of my writing.
3.Do you have a favorite scene or line in Lawless?
Ahhh! I can't choose just one! Maybe when Kesia throws up on Shance's shoes when they first meet, because it's a bit of a riff on the usual Meet-Cute scenario, and it made me laugh. Also, Kesia's scene at the end where she faces down SPOILER SPOILER SPOILER was immensely satisfying to write.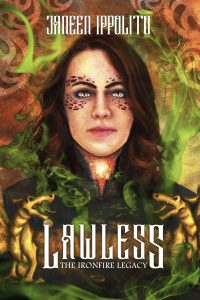 4. Do you have a soundtrack you write to? If so, how does this affect your prose?
I don't have a specific soundtrack, but I do have a playlist! I choose songs to help me get into the character mindset and feels of various scenes, so I rarely write to instrumental scores. Instead, I write to a mixture of singer-songwriter, rock, pop, symphonic metal, country, and any other type of music that captures a character feeling.
5. If there was one aspect of Lawless that was true in real life, what would you want it to be?
I want an airship like Shance Windkeeper's. And I want a full crew to mann it because I certainly wouldn't have any idea how to!
6. Does any part of Lawless have roots in your own personal life? Was anything in the book inspired by your own personal tales?
I think all authors in some way draw upon events that affected themselves or those they know to create poignant stories.
7. If you could have dinner with three authors (living or dead), who would they be and why?
P.G. Wodehouse, Jane Austen, and David Weber. P.G. Wodehouse is one of my all-time favorite writers for snark, Jane Austen's work has incredibly awkward human situations, and David Weber created treecats, and treecats make me happy. The whole planet of Sphinx generally makes me happy. If I were to visit imaginary worlds, Sphinx would be in my top three choices.
Thank you for your answers and good luck with writing! :3
Lawless Blurb
The salvation of humans and dragons lies within a convicted murderer.
Dragonshifter Kesia Ironfire has one goal—to redeem her past by serving the cruel dragon Pinnacle as a soldier in the dragon-human war.
Then a rogue mission to spy on a new airship explodes into sickening green smoke. The same mysterious green smoke that was present the night of Kesia's crime. When her dragon overlords deny any involvement, she and her tactical partner Zephryn Nightstalker try to investigate–and are sentenced to death.
Still searching for answers, Kesia and Zephryn flee to the human military capital, where Captain Shance Windkeeper has been furloughed after the destruction of his airship. Eager to discover what–and who–blew up his vessel, he agrees to help Kesia and Zephryn infiltrate High Command. In exchange, Kesia must pretend to be his betrothed so Shance can escape an arranged marriage. If only she knew what 'betrothed' and 'arranged marriage' meant.
But human social customs are the least of her worries. Dark secrets surface as Kesia delves deeper–secrets that challenge the facts of her crime and undermine the war itself.
A steampunk fantasy adventure with a side of quirky romance and snark.
Author Bio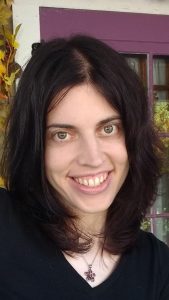 Janeen Ippolito is two authors for the price of one! She creates writing resources and writes speculative fiction with monsters, misfits, and mushy stuff. She's also an experienced author coach, editor, teacher, and the Fearless Leader (president) of Uncommon Universes Press. In her spare time, she enjoys sword-fighting, reading, geeky TV, and brownie batter. A lifelong misfit, she believes different is beautiful and that everyone has the ability to tell their story. Two of her goals are eating fried tarantulas and traveling to Antarctica. This extroverted writer loves getting connected, so find her on Twitter, Facebook, Instagram, and at her two websites: janeenippolito.com and writeinsideout.com
Lawless Endorsements
Lawless is a tightly woven tale of dragons, political intrigue, and romance, with two sexy male leads, a competent but vulnerable heroine, and all the steampunk and dragons you could desire. The story starts off with a literal explosion and never stops moving. On the way we're introduced to an intriguing world and a story that satisfies but hints at more to come. Definitely recommended.
–H.L. Burke, award-winning author of the Nyssa Glass steampunk series and The Dragon and the Scholar series
Steampunk with dragon-human shifters–that concept was all it took for me to fall in love with Lawless in the first chapter. What made me stay in love were the characters, each with an intriguing history, and the rich story world, filled with original magic and mechanics. Looking forward to experiencing more of this series!
–Kat Heckenbach, author of paranormal romance Relent and magical adventure The Toch Island Chronicles
Amazon: https://www.amazon.com/Lawless-Ironfire-Legacy-Book-1-ebook/dp/B075BSZ3JF/
Goodreads Link: https://www.goodreads.com/book/show/36188056-lawless
Autographed Paperback Preorder: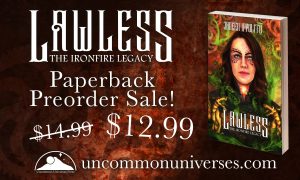 Additional Preorder Links:
Apple: https://itunes.apple.com/us/book/id1278784157
Kobo: https://www.kobo.com/us/en/ebook/lawless-36
Barnes & Noble: https://www.barnesandnoble.com/w/lawless-janeen-ippolito/1127060987?ean=2940154896310
Social Media
Facebook Launch Party: https://www.facebook.com/events/116676842343053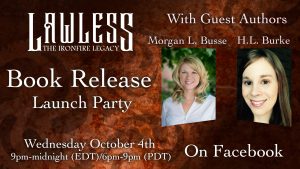 Janeen Ippolito's Social Media Links
Facebook Author Page: https://www.facebook.com/janeenippolitowriter/
Website: www.janeenippolito.com
Twitter: @TheQuietPen
Instagram: janeen_ippolito
Feel free to check out the other stops of the tour:
Sept. 21* – Laura A. Grace – Unicorn Quester – Author Interview 
Sept. 22* – Josh Hardt – Character Interview
Sept. 25 – Annie Douglass Lima – Realm Explorers
Sept. 26* – Anna Tan – Steampunk, Fantasy, and Cultures
Sept. 27* – Fanni Suto – Author Interview
Sept. 28 – Leanna Shields – Character Chat
Sept. 29 – Kessie Carroll – Book Spotlight
Sept. 30* – Bethany Jennings – Character MBTI
Oct. 1 – Melissa Sasina – Book Spotlight
Oct. 2 – Alexander Preston – Book Review
Oct. 3* – Kyle Shultz – Character Interview
Oct. 4* – Cathrine Bonham – FANtastic Interview
Oct. 5 – C. S. Johnson – Book Spotlight
Oct. 6 – Kara Swanson – Character Interview
And now that you have read everything, you deserve to have your scavenger hunt clue. Voilá!