Igazi sokk volt, amikor felfedeztem,a barátom nem ismeri Bud Spencert, Terence Hillről meg már ne is beszéljünk.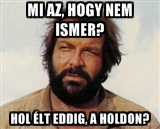 Hajlamosak vagyunk az általunk ismert valóságot annyira magától értetődőnek venni, például hogy karácsonykor mindig a Reszkessetek Betörők megy, vagy hogy mindenki, aki még a százcsatornás kábeltévé előtt nőtt fel, hozzá volt szokva, hogy nyaranta A vizilovakkal vagyunk és Banan Joe-val és A kinccsel, ami nincs. Az ember persze ismeri a sztereotipiákat, hogy az angolok szertenek az időjárásról beszélni, a németek pontosak, a japán üzletemberek meg tinilány bugyikat vesznek automatából. (Amikor Angliában voltam, mondjuk én is rákattantam az időjárásra, és ha például Skóciából beszéltem valakivel, úgy kellett visszafognom magam, hogy  ne kérdezzem meg,  ott is esik-e az eső… Viszont akárhogy kerestem a tinibugyi automatákat Tokióban, egyet sem láttam.) Az igazi meglepetéseket nem ezek a felszíni különbségek okozzák, hanem a mindennapi élet apró valóságai. A barátom meglepődött, amikor a hálapénzről kérdeztem, nem is nagyon értette a dolgot. Én meglepődtem, hogy egy fejlett, nyugati országban a moziban nem adnak helyjegyet, hanem az ül a jó helyekre, aki hosszabban áll sorba vagy élesebb a könyöke.
Már egyetemen is élveztem az Interkulturális Kommunikáció órát, mert szeretem megismerni a világot, szeretem a kis furcsaságokat, és azt, hogy mindenkitől lehet tanulni valamit. Nem sok jót tudok a multis meló mellett felhozni, de talán sehol máshol nem ismernék meg ennyi féle embert. Megtudtam, hogy Németországban híresen problémásak a vonatok, hogy a lengyelül azt, hogy "bunkó, tapló, műveletlen" a "burak" azaz "cékla" szóval fejezzük ki, és hogy Venezuelában rengeteg nő van vezető pozícióban, mert felelősségteljesebbnek tartják őket, mint a férfiakat. Mivel én remekül szórakozom az engem körülvevő kultúrák felfedezésén, illetve a barátom "magyarításán," gondoltam időnként megosztok veletek is egy-két bonbont. Nagyon szívesen látom a ti vicces történeiteiket is, kommentben vagy ahogy jól esik. 🙂
Így első nekifutásra elmesélem, milyen szavakat tanítok Mr. G-nek. Tudni kell rólam, hogy bölcsész vagyok az igazi sztereotipikus fajtából, aki többre értékeli a szépséget, mint a hasznosságot. Nyelveket is valahogy úgy tanulok, hogy előbb tudok verset olvasni meg az üvegházhatásról értkezni, mint megkérdezni, hol a próbafülke. Nagy szerencsém volt a kínai nyelvkönyvünkkel, ahol olyan hasznos kifejezéseket tanultunk, mint például a "banánízű alma," a "gyaloghintó" és a "körforgalom közepén található növényes, füves terület." Oh yeah. Én azért ezeknél egy fokkal hasznosabb szavakkal táplálom ifjú padawanom szókincsét. Ahogy tegnap elmésen rámutatott, én lakom itt, nekem kell a praktikus kifejezéseket megtanulnom, ő megengedheti magának, hogy a szórakoztató/szép/ aranyos szavakat tanulja. Végülis igaza van, a főközönsége úgyis a négy éves húgom.
Milyen szavakat tettünk eddig magunkévá?
Hasznos szavak (kicsiny, de fontos csoportja)
Szia! Hogy vagy? Mi újság? Mi ez? Ki az? Hol van a… (papucsom/pulcsim) Éhes vagyok. Pisilni kell. Fáj a pocim. (Igen, igen ezeket én használom rendszeresen) Kérsz, kérek. Szeretlek. Én is. Boldog Karácsonyt! Boldog szülinapot! Gratulálok! Jó éjt!
Állatok (Ebből, nem annyira meglepő módon, jóval több van, mint hasznos szavakból)
Bagoly, mókus, kutya, kacsa, cica/macska, pocok, pele (a mogyorós pele >> gyümölcspele lett) bogár, pillangó, oroszlán, tigris, boci, madár, paradicsommadár, pingvin, maci, hal, jegesmaci, cápa (A Nyár van című Neoton Família slágerből) tehén (Az én vagyok a kistehén! Csodás videóból) róka, farkas, malac, nyuszi, vakond, kígyó, kukac.
Testrészek:
Fej, szem, nózi (:D) fül, poci, láb, kéz, intim testrészek óvodások által használt nevei 😀
Ételek-Italok
Barátomról tudni kell, hogy kicsit válogatós a lelkem, és anyukám mindig örömtáncot jár, ha felfedez valami új ételt, amit meg lehet vele etetni. Ennek megfelelően zöldségfélék alig szerepelnek a listán.
Kávé, tej, víz, husi, krumpli, rakott krumpli. (Egyszer készítettünk a családjának is, nagyon ízlett nekik a "rhákott khrümpli") fasírt (ez nagy kedvenc) lencse (aka lencsike) paradicsom (ezt se eszik, csak véletlenül tudja, a "paradicsommadár" miatt) csirke/csibe, gomba
Ruhadarabok
Pulcsi, zokni, papucs, cipő, naci, bugyi, "cicibugyi" (aka melltartó), sál, sapi
Random
Kukucs, Virág, fa, okos, bugyuta, buta, város, álom, csúnya, gusztustalan, szép, vicces, kedves, ügyes, király (a szleng jelentés is) királylány, magyar népmesék, könyv, Mátyás király, kis gömböc, Gyere, jövök, néni, bácsi, fiú, lány, "gyere kislány, gyere, a diszkóklubban vár már a zene," csillag, vonat, nap, kisbaba, gitár, finom, tanár, család, csíkos, pöttyös, gyakorlatilag minden szó, ami angolból –ussal képezhető, például: logikus, szimpatikus, romantikus stb. "Tele vagyok, mint a déli busz," "Nem kerget a tatár" (tanulása folyamatban), majdnem az összes szín, a számok egytől tízig úgy ahogy.
Egyszer olvastam valahol, hogy egy férfi a japán feleségétől tanult meg japánul, aztán, amikor élesben használta, jól körberöhögték, mert úgy beszélt, "mint egy nő." (Sok szónak van inkább a nők által használt formája, például az én, te személyes névmások használatában) Azt hiszem, velünk is ez lesz a helyzet, bár az szerintem szegény barátom inkább úgy fog beszélni, mint egy kislány. Azaz, mint én.
Végezetül álljon itt egy kis nyelvi humor, amit az ifjú Padawan követett el. Elvittem magammal az Imagine Budapest, Így laktatok ti… túrájára, ahol meglátogattuk híres magyar írók lakásait. Bizony azért értelmes dolgokat is mutogatok neki, nem csak az én vagyok a kis tehént. Szóval megnéztük Jókai Mór és Laborfalvi Róza lakását, ahol meghallgattuk romantikus egymásra találások történetét. Ez zanzásítva a következő:
Kiszabadították Táncsicst a börtönből, és úgy volt, hogy majd este beszédet mond. Igen ám, de szegényt annyira megviselték az izgalmak, hogy elaludt, és nem igazán örült, amikor ébresztgették. Végül békénhagyták. A színházban az izgalom már a tetőfokára hágott, a nép lázadozott, aztán Laborfalvi Róza úgy döntött, hogy ad nekik valami másfajta izgalmat, felinvitálta az ifjú Jókait a színpadra, és jól lesmárolta. 😀
Miután ezt jól meghallgattuk, megkérdezi tőlem a barátom:
Do you know why Táncsics didn't want to get up? (Tudod, hogy Táncsics, miért nem akart felkelni?)
Nem tudtam.
Because he was Táncsicsi. (Mert Táncsicsi volt. Továbbá "tant csicsi" franciául azt jelenti, hogy annyira/nagyon csicsi (aka álmos.)
Ha érdekel egyáltalán valakit, interkulturális kis életünk, legközelebb a kulturális bevonódás további állomásait térképezzem fel.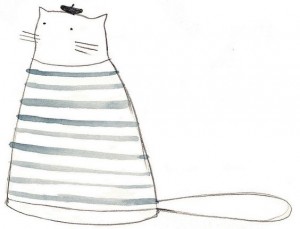 English Version:
It was a real shocker when I learnt that my bf doesn't know Bud Spencer, not to mention Terence Hill. Maybe they are not that well-known in the West but they used to be household names in Hungarian entertainment and in the ancient times when we had only two or three TC channels you could see them very often. We tend to take our own well-known reality for granted, in Hungary Home Alone is the typical Christmas movie each and every Christmas while in England people go out to see the Christmas pantos in the local theatre ( I know, I've sold plenty of tickets for them…) We know the stereotypes that the English like to speak about the weather, the German are punctual and Japanese businessmen buy teen girl panties from vending machines. (In London I also acquired a weird obsession with weather and every time I spoke with somebody from let's say Scotland I had to repress the desire to ask if they had such big rains too… On the other hand, however hard I tried I couldn't spot any kinky vending machines in Tokyo.)
The real surprise I think is not in the surface differences but the small realities of every day life. In Hungary it's a tradition… habit… well thing that one slides some money into the pocket of the doctors and nurses in the hope of better treatment. We call it "gratitude money" although you usually give it before there is anything to be grateful for. I wouldn't go into the state of Hungarian health care or the social reasons for this but "gratitude money" is a fact, it's happening. When I asked my boyfriend if you give money to the doctors here, he didn't even get what I was talking about. Yeah. On the other hand what was shocking for me is that here, in a blooming first world country, you don't get a seat number when you buy your cinema ticket. You have to queue and fight for it. We have at least that easier.
Intercultural Communication was one of my favourite classes in uni because I enjoy getting to know the world, I adore the little oddities and the fact that you can always learn something from somebody. I can't really say a lot of good things about working for a multinational company but it's a fact that elsewhere I wouldn't know this many kind of people. I learnt that in Germany trains can be very problematic, that in Polish if somebody is rude or impolite you say "buraki" which means beetroot and that in Venezuela many women are in high positions because they are seen as more responsible and serious than man. Since I'm having immense fun getting to know the cultures around me and in the Hungarification of my boyfriend, I thought I would share some anecdotes with you. Of course I'd very happy to read your stories as well, if you have any to share in comments or any way you find it comfortable.
My first entry is about the incredibly useful words and expressions I teach to my boyfriend (aka Mr. G.) You have to know about me that I'm a real humanities student from the stereotypical kind that values beauty more than usefulness. I've learnt languages the same way, I could read poems and talk about greenhouse effect before I could ask where I could find the changing room. I got lucky with our Chinese textbook, it taught us such wonderful words as "banana flavoured apple," "sedan-chair" and "the green space in the middle of roundabouts." Oh yeah. Rest assured, I teach my young padawan more useful words. Anyhow, as he pointed out to me very cleverly yesterday, I am the one living here, I'm the one who needs to know the practical words. He can allow himself to stick with the funny/beautiful/cute words. He is right after all, his other most likely audience is my four year old sister anyway.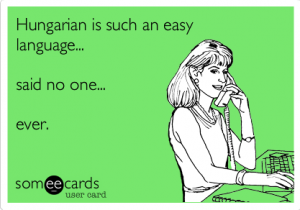 What words have we learnt so far?
Useful expressions (a small but important group)
Hi! How are you? What's up? What's this? Who is that Where is…? I'm hungry. I need to pee. My tummy hurts. (Yeah, these are the ones he learnt because I use them a lot) Would you like some… ? Yes, please. I love you. Me too. Merry Christmas! Happy birthday!
Animals (Not surprisingly we have much more of these than useful expressions)
Owl, squirrel, dog, kitten/cat, vole, dormouse, bug, butterfly, lion, tiger, cow, bird, bird of paradise, penguin, bear, fish, polar bear, shark, fox, wolf, pig, rabbit, mole, snake, worm.
Body parts:
Head, eyes, nose, ear, tummy, foot, hands, kindergarten terms for private parts 😀
Food-Drink
One think you have to know about my boyfriend is that he is picky when it comes to food. When I say picky, I mean VERY picky, not the "I don't eat broccoli"- kind of picky. At least it always makes my mum happy when she discovers yet another thing he eats. Therefore don't be surprised if the vegetables are almost completely missing from the list.
Coffe, milk, water, meat, potato, lentils, tomato (he doesn't eat this), chicken, mushroom
Clothes
Jumper, socks, slippers, shoes, trousers, panties, "boob-panties" (aka) bra, scarf, cap
Random
Flower, tree, clever, silly, dumb, city, dream, ugly, disgusting, nice, funny, kind, talented, king/cool, princess, Hungarian Folk tales, King Matthias, come here, old woman, old man, boy, girl, star, train, sun, baby, guitar, tasty, teacher, family, striped, polka dotted; practically every word that ends in –ic in English and can be turned into Hungarian by adding –us; almost all colours and the numbers from 1 to 10. More or less.
Once I read somewhere that a man learnt Japanese from his Japanese wife and when he started speaking with people they laughed at him. Because he "spoke like a woman." (As far as I know, in Japanese there are parts of the vocabulary that are mostly used by women while others are mostly used by men, such as forms of the personal pronouns I, you etc.) I think that is what will happen to us as well, except that my boyfriend will talk like a little girl. That is like me.
If people find this entry interesting, there might be some more coming up in the future.