This is a blog post I wrote almost 4 years ago. That time I was living the last few weeks of my Erasmus life in London and I decided to do some local exploring. I visited not very touristic places with the intention to discover my surroundings and the places I passed everyday without looking at them properly. This article was published on the old blog I had with a friend but since we're closing that down, I decided to rescue the posts about my wanderings and re-publish them here. I edited some bits but I didn't do any major rewrites because I wanted the article to reflect how I wrote back in 2013.
For a long time I regarded Putney Bridge as a land of mystery. I used to live on the line of Bus 93 and every morning when I went to the uni, the kind female bus-voice repeated "Putney Bridge" at least 30 times. Maybe it's just me but after a time these much heard of- but-never-visited destinations began to sound like a land if promise even though on visiting they turn out to be nothing special.
One Saturday I decided to explore Putney a bit more. One can get there rather easily: the District line stops at Putney Bridge, so do numerous buses like the 14, 74, 414 from the direction of the city 85, 93 from the direction of the outskirts. There is also a National Rail station. Putney is in zone 2, so it shouldn't cost you a lot to pop over for a visit.
I approached from the direction of Wimbledon, I got off two stops after Putney Heath, in order to drink in the Putney-atmosphere properly. I saw many interesting things on the way for example this funny invitation from a restaurant: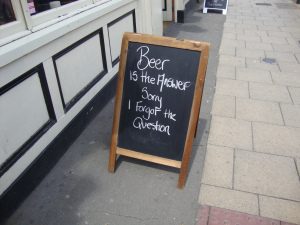 The day before I looked up some free programs in Putney and I found out about Fulham Palace and Bishop's garden which lie just across Putney Bridge. It was a nice warm day, ideal weather for wandering.
Random facts about Putney and Putney Bridge:
Putney comes from the Saxon, meaning "Putta's quay" and has remained an important landing-place through the ages.
The world's oldest rowing club was founded here in 1818. Since 1845 the Oxford- Cambridge boat race has started from Putney Bridge.
Putney Bridge was the second bridge built over the Thames after London Bridge. In 1795 Mary Wollstonecraft threw herself into the Thames from the bridge because her lover left her for an actress. Luckily, she survived and later gave birth to Mary Shelley the writer of Frankenstein.
Putney Heath was the scene of many duels., including two notable political duels brought about by arguments over the Napoleonic wars.
I love typical English churches and there is one at each side of Putney Bridge contributing to the harmony of the scene. The one next to the Bishop's Park is All Saint's Church with a tower that dates back to 1440 and had a bloody appearance in the film The Omen (1976). I arrived to a charming statue park and after enjoying the sunshine a bit, I moved on towards the Palace.
You can walk next to the Thames or in the park which has different little corners where you can enjoy a good book, play football with your children or run with your dogs. A bit further in, close to the entrance of the Palace, there is a playground and a skate park. The whole place has a very friendly, buzzing atmosphere.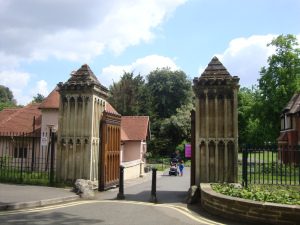 The palace staff was very welcoming, I got a map and was encouraged to go exploring. The palace used to be the residence of the Bishop of London and hosted many illustrious guests. One of the bishops had the unusual name "Sherlock." He wasn't a detective as far as I know, but he did build nice rooms. From the window you can see the "Bishop's tree". It's a sort of statue-tree; Andrew Frost carved numerous bishops into cedar wood which later was applied to the trunk of a Cedar of Lebanon which had to be felled a few years ago.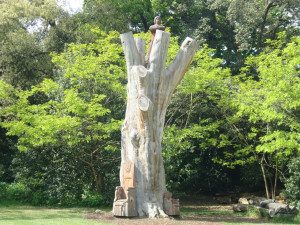 Bishop Bonner is said to be haunting the grounds, while Bishop Compton was famous for importing rare species, such as the magnolia, to England. He also sent fruits as a gift to the Queen (I. Elizabeth.) I enjoyed the museum greatly because there were some interactive tasks which always make my childish soul happy. I think it's a great experience for children if they can touch, smell and try stuff rather than just looking at glass cases. Next to one of the exhibits, you smelled different herbs and plants and you had to figure out what it was. Well, I got none correctly but it was fun.
The surroundings of the Palace are a rich archaeological site: findings rage from Neolithic tools to 20th century matchboxes. Next to the case you can touch and inspect replicas from some objects and try to find out their use. I recognized a pipe, hah! You can also find an old pram here, the model of the building and a doll house.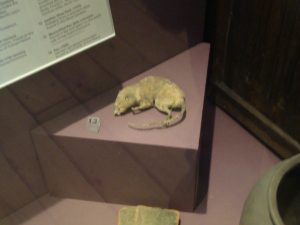 I also got to know that in older times the bishop had right for the whales from the Thames and that the moat surrounding the house was the longest in medieval England. The Palace has Tudor, Georgian and Victorian parts, the latter is an atmospheric chapel near the entrance.
From the museum rooms, you can proceed to a charming cafe and have your coffee / cake inside on a table which looks like a clock (have I mentioned that I'm a fan of clocks?) or outside in the sunlight.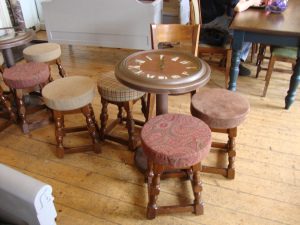 Being a student at the very end of her budget, I only bought a small pack of crisps, but even that felt pleasantly aristocratic in such surroundings. I sat around in the park behind the café, watched the children chase pigeons and I wrote some poetry. After recharging my solar batteries I headed home but got a bit tangled in the varied geography of the park (my euphemism for getting lost) I found the walled garden with the purple smell of rich acacia and the sunlight glistering on the wall of greenhouses.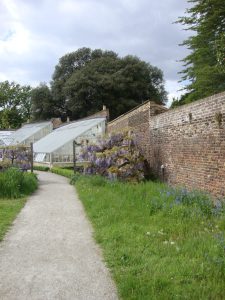 Opening times:
Winter:
30pm-3.30pm Monday to Thursday
12pm-4pm Sunday
Summer:
30pm-4.30pm Monday to Thursday
12pm-5pm Sunday and Bank Holiday Mondays
It's free. I warmly recommend visiting it even with children. The museum is very accessible, the visitor gets sufficient and interesting information but your brain doesn't get flooded.
Fulham Palace and the gardens offer a huge variety of programs: there are craft sessions and special events for the whole family or workshops for children (Maps, drama, sculpture etc.), special events for adults (Palace Art and Craft Fair, Museums at Night). Furthermore there are drawing and photography workshops, talks, outdoor theatre shows and film screenings. It's a pity that I don't live in London anymore but those of you who do, go and have fun.
More information about the palace: www.fulhampalace.org