Today I'm interviewing Aimee Brown as part of her the blog tour for her debut novel, Little Gray Dress. Check out the other stops on the blog tour for more exclusive details!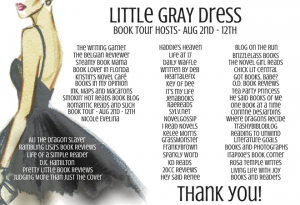 Hello Aimee and thanks for stopping by. Let's get to work.
1. Give us an insight into your main character, Emi. What does she do that is so special?
I don't know that it's what she does that make her special but who she is. Emi is an average, non-size-2 woman who has a dilemma of having to face the man who broke her heart a couple years earlier. She's a real woman with real issues that she's not afraid to overthink to herself. She's definitely not a character without flaws.
2. A little gray dress has a special importance in your novel. Do you have a favourite piece of clothing or a dress you have a story with?
Surprisingly, I don't. I loved the idea of having something of Emi's ground the story and link everything together from beginning to end. As far as clothing and style goes, I'd say Emi is quite the opposite of my jeans and chucks wearing self.
3. What drew you to chick lit? Is there any other genre you would like to try?
I fell in love with romantic comedies and chick lit years ago and I think it's always been a part of me so writing anything else wouldn't be as me as chick lit is.
I've begun writing a book that is chick-lit/romantic comedy meets cozy mystery that I think is a fun combo and something you may see more of from me in the future.
4. What was the hardest thing about writing Little Gray Dress?
Finally listening to the advice of so many authors and just allowing myself to write badly for the first draft just to get it on paper. I have pretty severe OCD mixed with some perfectionism crap that constantly makes me feel like I need to edit and 'fix' things before I'm very far along which in turn means I delete a lot of just started stories. Once I finally got the entire story on paper, I can't tell you how great it felt. Then there was sending it to beta readers (which are four authors who don't personally know me) and that was hard too. I didn't sleep the whole time they had it, afraid that they'd tell me 'writing isn't your thing'. LOL I was so glad they didn't!
5. Do you write full-time or part-time?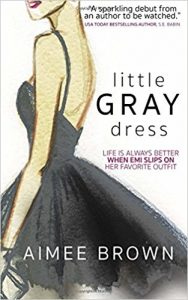 I write part-time. The rest of the time, I am in college on-line at the University of Colorado-Denver, completing my Bachelor's degree in English/Writing. So, I write a lot for that and a lot for my own blogging and publications. I also run a small business with my husband that is our main source of income. I do the office side, he does the work.
6. How often do you write, and do you have a special time during the day to write?
I write something every day. But, as far as working on manuscripts I kind of just write when the feeling hits. I find if I force it, it ends up deleted but if I sit down when I have the urge then I'm more likely to write well without all the deleting, crying, and pleading with the writing Gods to help. Lol
7. For your own reading, do you prefer ebooks or traditional paper/hard back books?
I get severe migraines and optical migraines with too much electronic use or the wrong lighting (especially the lighting from electronics) so I try to limit my Kindle reading. My house is full of books, real, paper books floor to ceiling. It's beautiful and I hope physical books never go away. And eBook just isn't the same as something you can hold in your hands the way you can a book.
8. What are your thoughts on good/bad reviews?
Being a book blogger, I feel like there is a place for both good and bad reviews. If a bad review is written well with constructive criticism it can be quite useful to an author. If a book is given a bad review because it wasn't the readers cup of tea, that's unfair to me. If you didn't like it just because it wasn't your thing, but say it's written well, the story is well laid out, and there is character growth, then there are positive points a reviewer could choose to give a better review than a did not finish. Books are about an author's skill and tying up loose ends and if you're a great reviewer you should be able to write a great review good or bad. As an author, it's hard to see a bad review that is poorly written for little reasons. When I don't enjoy a book, just because it's not appealing to me, I give a list of goods and bads that I did or didn't enjoy. That's more constructive to the author & it makes me look like I took the time to write a good, well rounded review even if it's not five stars. Books are hard to write and anyone who writes one deserves at least the credit of strong and weak points to help them become a better writer. If a 'bad' review is written well I respect that in a review. That said though, unless a book is just terribly written, the story is hard to follow, or the characters aren't well developed, there is never an appropriate time for a 1 or 2-star review OR bashing of the author if the book has positive aspects. If writing was easy, we'd all have best sellers.

9. Which famous person, living or dead would you like to meet and why?
Audrey Hepburn, Cary Grant, Marilyn Monroe, Myrna Loy… so many from old Hollywood fill my list. We are missing the class and elegance that the 30's – 50's once gave us and I'd love to chat with them about what they think of the world today.
10. When you develop characters do you already know who they are before you begin writing or do you let them develop as you go?
When I was in my first year of college I had a professor who had us do character interviews. It really can help lay out a character and where they might lead you in a story. I have a list of questions that I mix up a lot that I interview each of my characters to make them unique. It really is fun and by the time I'm done it's pretty easy for the characters to write the story themselves.
Thank you so much for your great questions! I've enjoyed chatting with you. Your support for Little Gray Dress means more to me than I could ever show.
Visit Aimee: http://authoraimeebrown.com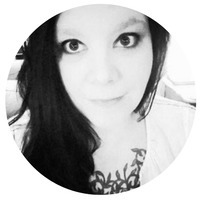 Twitter: http://twitter.com/authoraimeeb
Facebook Page: https://www.facebook.com/authoraimeebrown/
Instagram: https://www.instagram.com/authoraimeeb
Be the first to know about my new releases, giveaways, & more: http://www.subscribepage.com/v5y6u9