Hi Heather, welcome back to Ink, maps and macarons! A new, beautiful and blood-curdling anthology has been put together by the Just-Us League. After fairy tales and superheroes, we visit the world of darkness and monsters.
1.Your anthologies always have such cool topics, how do you come up with them: Is it a group effort or there is a mastermind? What is the working process behind the JL anthologies?
Our themes are a group decision based on interest and marketability. Fairy tales just barely won out over superheroes, and after we released those two anthologies, we decided that horror would be the perfect next choice, especially with an October release date.
The next planned anthology is another fairy tale one, and after that we have planned themes such as fantasy, romance, and possibly historical fiction! We try to accommodate all of the varied interests of our group.
2.Tell us a bit about your story! Where did you find your inspiration for it?
My story, titled "In Her Reflection", is a paranormal tale about a girl who can switch places with her reflection that dwells in an old mirror. It was inspired by a nightmare I had a while ago, though the actual scene I wrote based on the nightmare was ultimately cut from the final version.
I've never written horror before, but it was a lot of fun and I'm pleased (and slightly scared) of the result.
3. If you needed to describe your short story with a sound, a colour and a food item, what would they be?
For a sound, I'd go with rain. The heavy kind you get where there's a rumble of thunder in the distance. It sets the mood nicely and was also a part of the nightmare that influenced "In Her Reflection".
For a colour, I'd pick silver, the colour of a mirror's surface, because a mirror plays an important part in the story.
For a food item, I'd pick dark chocolate-coated caramels, because they have an unassuming exterior until you bite into them and find all that gooey goodness. Which is pretty similar to my story, I think…it starts out with a neat premise and then hits the twist with a bang.
4. What costume would your protagonist wear for Halloween?
Aileen would dress up as Bloody Mary. She and Neelia would find it amusing because Mary is called in a mirror…I wouldn't be surprised if they tried to summon her sometime in their childhood!
Are you easily frightened? What were you most afraid of when you were a child?
Yes and no. I have some rather powerful phobias about a few things, but I'm not easily frightened. Except when it comes to horror films…I don't watch them because they terrify me! As a kid, I was quite scared of the dark, though I eventually grew past that.
6. Do you have a favourite horror film? And scary book?
I don't watch horror movies; they aren't my thing. Scary books, on the other hand, I've read and enjoyed several. I'd recommend Matthew Dewar's Nightmare Stories, a creepy horror anthology compiled by a talented writer of the Just-Us League, and Bartholomew Lander's The Warren Brood, a fantasy-occult horror trilogy.
If you met a boggart from Harry Potter, what form would they assume?
Probably a giant spider. I like spiders in general, but I prefer to view them from a safe distance.
Blurb:
Even when we think we're safe, our biggest fears can be revealed, our worst nightmares brought to life.
For some, death is inevitable: a suspended detective and killer play a bloody game of cat and mouse; a girl risks her life to save her friends from an urban legend; a doctor's daughter works to uncover the curse on their wayward ship; and an old lady's cats are hungry…very hungry.
For others, death would have been an easier fate: a reflection isn't meant to talk, let alone free itself; a priestess must renew her people's magic, but that ritual carries a terrible price; and a famous boy rejects a lovesick girl…and lives to regret it.
Through life and death, the only constant is our fear of the unknown: bloody footprints continue to walk around a lighthouse; Grandma's warnings of the Autumn People are finally heard loud and clear; and a girl moves into a new house to find a bloodstained carpet…that no one else can see.
Keep the lights on and brace yourself for ten creepy tales of horror and misfortune.
Kindle Preorder: https://www.amazon.com/dp/B0764N8T9L/
Short Author Bio:
Though a part-time editor by day, Heather Hayden's not-so-secret identity is that of a writer—at night she pours heart and soul into science fiction and fantasy novels. She is currently working on Upgrade (the sequel to her first published novel) and an as-yet-untitled series of fairy tale novelizations.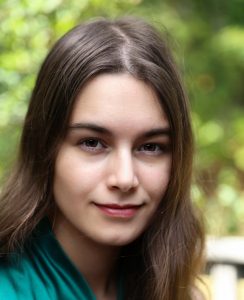 Social media links
Heather Hayden: Website Twitter Facebook