I went walking… in Napoleon's footsteps
I've mentioned in my previous walking tour post that I found Napoleon a bit underrepresented in Paris. Last weekend I went on a walking tour which proved me that good old Bonaparte still lurks behind the veneer of world war generals.
About Withlocals
I found Withlocals by chance or by divine intervention. A friend liked their page on Facebook and it popped up on my wall. From what I gathered, the initiative was first launched in Asia but seeing the success they moved on to Europe. The main aim is to connect the traveller with locals, thus giving the visitor a first-hand, authentic experience. To promote the opening in Europe, Withlocals advertised four walking tours in Paris and I duly signed up for all of them. It's a great way to getting to know the city whether one is visiting or living there, so I warmly suggest trying them. You can check out the list of free walking tours here and I plan to write a report on all of them.
Napoleon, vertically challenged war machine or philanthropic visionary
What do I remember about Napoleon? I remember that we had to learn the dates of all of his victories, a list of his reforms and that he crowned himself an emperor on 4th December in the church of Notre Dame (the year escapes me.) I also remember that he was the role model of Julien Sorel from Stendhal's Le Rouge et Le Noir, one of my numerous literary crushes. Julien admired Napoleon because he showed that you could rise to fame even if you are not born into the highest circles.
One of the things I learnt from our host, is that Napoleon owed a lot to the French Revolution. Before the revolution, however talented you were, you couldn't rise higher than captain if you weren't a noble. The events of 1789 did away with this notion. It must have meant a lot to young Bonaparte and he was very much inspired by the principles of the revolution. Had he been born a generation before, his talents might never have come to flourish.
We started our tour at the Fontaine du palmier that Napoleon (I'm repressing the desire to nickname him Nappy, I'm sure he wouldn't approve) ordered to show off his numerous victories, most prominently the one in Egypt. Beside the propaganda reasons however, the fountain served a more practical goal, it provided the people with drinking water. In the past water was scarce in many places, that's why a fountain like this was a neat idea.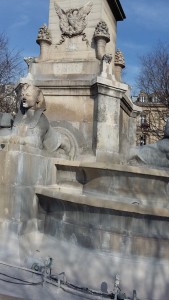 I also discovered a Space Invader mosaic on it!
I got to know that Napoleon contributed to the building of the Louvre, ordered the building of the Pont des arts and designed the Rue de Rivoli to connect the east and the west of Paris. The street shows his practical and clean cut style; it's very straight, very uniform. Napoleon also had a column built commemorating his military success alongside a Greek temple style church for his beloved grand army. Moreover, I got to know where to have the cheapest full lunch in Paris but I'm not giving away all the secrets.
There was only a very nice Dutch family and myself so the tour had a friendly, familiar vibe to it. I talked a bit with the mum of the family; she lived in Paris when she was 18 and they stayed in a nice Airbnb flat. I also talked a lot with our guide about my plans of maybe running my own walking tours one day and she was very nice and helpful about it. She is in a roughly similar life situation as me so we understood each other quite well. I enjoyed this tour very much, I think it was the first walk of my life where I interacted with the guide and the other guests this much so it had a special added value to me.
The tour was very informative and professionally run. I learnt more than I realised. I feel better acquainted with Paris's history – we learnt not only about Napoleon but about his nephew, Napoleon III, and some of the earlier monarchs like Louis XIV and Louis XVI.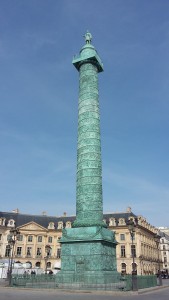 We had a lovely weather, although a bit windy. On the whole, I had a great time and will try to go on the Medieval Paris tour with Wan Cheng Chan as well. I feel so much better now that Napoleon is not forgotten.
Bonus fact: At the end we learnt why N. always had his hand in his pocket. Apparently back in the day having your hand in your waistcoat was a common posture to show that you are a well respected and competent leader. We also learnt that Louis XIV liked to flash his calf on every painting because he was convinced it was sexy. Lucky for us that they didn't live in the 21st century otherwise they would have been making duckfaces in their boudoir mirrors.