Although I like to think of myself as a girl of many virtues, I'm also painfully aware of my shortcomings, my questionable driving skills, my messiness and my impatience and lack of long term determination. While the first two flaws don't really interfere with my writing the last one can make life quite tough for an aspiring novelist. The reason why I participate in Nanowrimo, the national writing month is because I want to prove to myself that there is no curse sitting on me and if I really wanted to, I could work on the same story for a whole month.

There are many people who frown upon this international writing endeavour; the anti-Nano fraction sees the writing month as a ridiculous attempt to make a fast (= necessarily hasty and bad quality) progress in one's novel. They see Nanowrimo as a big playground of naive writers who don't yet know that a "real writer" has to pamper a novel for years to make it good. There is, of course, truth in what they say but we mustn't forget that November is the month of the actual penning or typing down of the tale itself. We had the whole year to ponder about our novel, plan a complicated plot, fill out character sheets, make Youtube playlists for writing and Pinterest boards for inspirations. My own poor characters appeared in my thoughts around April but until November they were roaming in my head, staggering around like zombies. I think they're grateful for Nano. I'm definitely grateful. Who would want half-ready, untamed creatures wandering around in their heads?
Another argument in favour of Nanowrimo: Why should writing always smell of sweat and blood? Why couldn't it be a game, a challenge or a social event? I'm very bad at challenges. If nobody is there to encourage me, I just shrug and give it up after a few days. I think this sense of community with countless other writers who also struggle every day to squeeze out the word count, makes writing easier. I have a writer friend (Gabi Szaszkó, that's you) and I think Nano brought us closer to each other because we dragged ourselves forward together, in heroic comradeship, helping the other when she lost motivation.
In 2013, when I participated in my first Nano I also started my first real job. It was a 9 to 6 office job and I commuted almost three hours every day. After four month of post-university dolce vita, it was quite tough. But it taught me one thing: to be resourceful, to fight for my writing time and to cherish the moments I can spend with my characters. I was taking my small netbook to work every day to write on the twice 20 minutes train journey. Of course it wasn't that easy. I met unexpected acquaintances so I had to engage in polite conversation instead of writing or I arrived to the station too late and there weren't any sitting places.

But I can be quite cunning when I want to, so I was typing stuff into my phone while standing on the tram or sitting on the underground. I was trying to draw up new twists when hurrying to the station at half past five in the morning to have my driving lessons. Well, maybe it wasn't my most effective time of the day but at least I tried. Somehow I pulled it through and finished on the last day of the challenge with a little bit more than 50 000, almost a hundred pages in Word. I really have no idea how all those sentences got onto the screen but I was happy to see them there.
Is my story finished? No it is far from it, there are a bunch of undrawn characters, unmined plotlines and uncorrected sentences. Many people who dismiss Nanowrimo say that you can only do a low quality hasty work if you have pressing deadline and word counts to fulfil. They forget two things: it's only a first draft, you'll obviously have to work on it later. You might even have to completely rewrite the whole text. I just don't think that there are any stories which jump out of the head of their creator in a perfect shape and shiny armour like Pallas Athene. Everything has to be reread, edited and reworked no matter if the first version was written in a month or in years. Secondly, if after a time one wishes to make a living from writing sooner or later one will have to make friends with a compulsory writing amount. Because, as my literature teacher once told me, nobody got paid for great yet unwritten story ideas.
Of course, I don't want to forcefully convert anybody into a Nanowrimovian but I think it's worth trying if:
You have a good story idea, but no motivation (or time) to write it
You like challenges and you want to feel the sweet taste of victory over yourself (and procrastination)
If you are looking for a sense of achievement
If you just need the knowledge that you're not suffering alone, and there are fellow writers out there who are trying to do something with the gaping blank screen
If you want to win some cool writing related vouchers
Or simply you just want to play a bit and try your hand in a novel.
I'm happy that to be participating because I can show myself that if I really want, I can find time for writing. Nanowrimo helps me to treat writing not as a chore but as a special treat after a long and tiring day.

2013 – won
Londemonium
Genre: Urban Fantasy
With the turn of the Millennium the world didn't end. Something more important happened: the authorities of Heaven and Hell signed a new contract: Hell became a huge business empire in an underworldly reflection of London, lead by CEO, Luke Ferdinand Seyton.
Nobody should have discovered the change, yet In one week four mortals get in touch with the reformed Hell. Gregor hopes to win the love of his long time crush, Irene during their London trip. He doesn't only get  friend-zoned but a young demon kidnaps Irene. Gregor has to find a way to get her back.
The same demon kidnaps the research partner of Molly, a fierce Irish biology student. She sets out to solve the mystery and on the way she chances upon her secret heritage.
Akiko was driven away from the home by her stepfather. She flees Tokyo and ends up in the house of her alcoholic f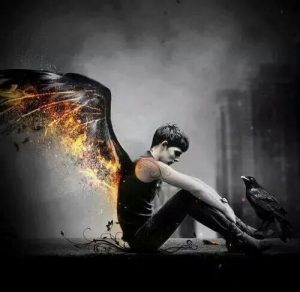 ather. But she cannot escape her fate; who is the mysterious woman in white she keeps seeing everywhere she goes?
Raphael, an immigrant angel, would do everything to be granted full-citizenship. He's more than happy when he is sent to fetch a seemingly harmless journalist. But when he arrives to the flat of Mr. Portiani, he finds nothing there but maps and notes on Hell.
Excerpt
"We don't like stability and constancy. We don't care for peace and security. Those are stuff for Heaven. We think life is change and change is life. Our results and indexes are proving us right. That's why I'm scared, I dream about being with somebody for a long time. Maybe my mind is cracking; I've been in this business since the dawn of time," said Luke sipping whisky from a crystal glass.
"That is a long time," nodded Gregor.
"That is an awfully long time, my friend. Especially without holidays."
"No holidays?"
"Have you heard the saying the Devil never sleeps? It's true. Well, almost. But surely the devil doesn't go on holiday."
"Where would you like to go?"
"I don't know. Everywhere. Where do people go when they want to relax?"
"Mallorca, Thailand Canary Islands?"
"Nah, I bet they are full of tourists," sighed Luke.
"Come on, Luke! You are Lord of Hell, figure out something."
Status: In the works. 85 % finished, I have editing fits every now and again and I have the story workshopped on Scribophile.
Pinterest board, Spotify playlist.
2014 – won
Mona, the orphan of Europe
Genre: Young Adult, Alternative History, Urban Fantasy
Synopsis
Mona is sixteen and she has problems with her parents, herself and the whole world. The situation only gets worth when her family is killed in a car accident and she finds herself next in line to the throne of the Danubian Monarchy, a freshly restored kingdom in the heart of Eur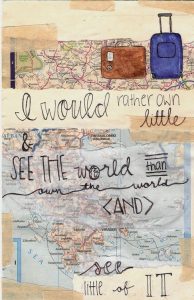 ope. Mona sets out on a journey through Paris, London and Budapest in order to come to terms with her dreams and responsibilities.
A coming of age novel set in an alternative Europe, which takes us into the heart of a feisty teen girl's Wanderjahre.
Excerpt
"I am like a pigeon!" I exclaimed when I finally found Aunt Luna's place after ca. 40 minutes of going round and round in the block. It was clearly not my fault that, except for the occasional garden gnomes or wind chimes, all the English houses looked the same.
"Really? Do you shite on people's head or what?" asked Lark, clearly not appreciating my navigation skills.
"No, I mean I find my way home from anywhere."
"Dearest, if you were a carrier pigeon, the addressee of the letter would be long dead/ married to someone else/ off to a different address by the time you found them." He laughed at me from under his stupid street kid cap.
For a moment I thought it would be nice if I could return to him after all the madness which was my life was settled. But I only said "Oh, shut up!" and slapped him with my wrinkled map.
Status: In shambles. 80 % of the story is finished, but it's full of Hungarian words (when I did sprints and just couldn't find the English word…) and typos… I'm polishing bits and pieces but unfortunately there are just too many stories I have to write and finish. But one day…
Pinterest board, Spotify playlist.
2015 – lost (it was a turbulent year, I moved to France, started a new job and a new life…)
Dreamless
Genre: alternative history, steampunk, urban fantasy
In a London where fantasy and imagination are strictly controlled by Her Majesty's Bureau of Imagination, where no daydreams and reveries go unpunished… something is stirring in the shady corners of a brothel. In the age of Freudian Darwinism, a young woman sets out to discover the fate of her parents and the city's dark underbelly.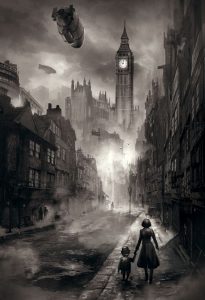 Excerpt
Frances's father was dreaming. He travelled back to his childhood and glimpsed into the future; he pulled his mouth into a lopsided smile. He dreamed of delicious dishes, about something fancy that a commoner like him wouldn't have the chance to taste in the waking.
Frances was hiding in the wardrobe and watched her father from the forest of moth-eaten shirts. It was the first time she saw somebody dreaming. Pa had forbidden her to sneak up on him or to try to nose around his business and although Frances was usually a very good girl… this time she couldn't resist. The Butterflies had told her so many interesting stories. She simply had to see.
Curiosity killed the cat, her mother would say but Frances never listened to her and we couldn't really expect a twelve year old to respect all the rules. One Butterfly said that people change when they dream; they become deformed, horrendous creatures like Mr. Hyde in that odd story. Another girl said a black horse would appear from thin air, its nostrils flaming and its ghastly eyes stare right into your soul. Others talked about goblins crawling out from gaps and creeks to feast on the fairy power the dreamer exhales.
Frances was dying with excitement. She was willing to spend hours hiding in the dusty wardrobe just too see the wonder. It never arrived.
Her father just lay on the bed, limp as a rag doll, staring at the inside of his lids. There was no magical transformation, galloping mare or fairy folk.Frances felt disappointed and was about from the wardrobe and run to the Red Nunnery, her aunt's house to report that the Butterflies lied.
Then she felt the ground shaking. "It's the night mare!" she thought and climbed back to her hiding place. But once again she was mistaken. It was not hooves but heavy military boots. Men flooded the small room and grabbed the arms of her father. Frances wanted to run to his rescue but she knew better than to mess with the soldiers. She saw enough and she was painfully aware that they didn't treat children any better than common criminals.
She lay low next to the naphthalene smelling clothes and hoped they wouldn't hear her sobs.
This was how Frances lost her second parent to dreams.
Status: Half finished ( if we're optimistic) I love this story but sadly it's quite far back on my to-do list.
Pinterest board, Spotify playlist.
2016 – we will see
Megyünk az őszbe (Into the Autumn)
Genre: Young Adult, Fantasy, Poetpunk
Synopsis
It is a story which places some famous characters of 19th Hungarian literature into a high school setting. Léda and her friends, the insolent and unstoppable Illa and the romantic, fangirl Fáni are looking forward to the start of the new school year. The appearance of a new classmate shakes up their lives and sets strange things into motion. Léda starts to dream about an eerie poetic landscape which seems to be somehow connected with the arrival of the New Boy.