I went walking… in Batignolles
On the encouragement of Murielle, my Montmartre guide, I joined the website: Onvasortir. The name basically means "we are going out," not in the dating sense, of course. In the website one can find all kind of activities: jogging together, cinema, board games, Let's practice English, etc. If you fancy doing something but all your friends are busy, you can post on OVS and see if there is somebody who would join you. It seems like a nice initiative and I plan to profit a lot from it, to get to know new people and to go out. The site seems to be present in all major French cities, I can warmly recommend it to foreigners trying to find their place or locals trying to find new friends.
Last Saturday, (5th March) Murielle organised a tour around Batignolles, in the 17th arrondissement (district.) for OVS members and I very happily joined.
Batignolles is less touristic or well-known, than let's say Montmartre. They are similar in the sense that they are "recent" additions to the city. The name of the district might come from the Provencal word bastillole/bastidiole meaning "little cottage in the countryside". Verlaine spent part of his youth here, Stéphane Mallarmé also lived here, as did Edouárd Manet.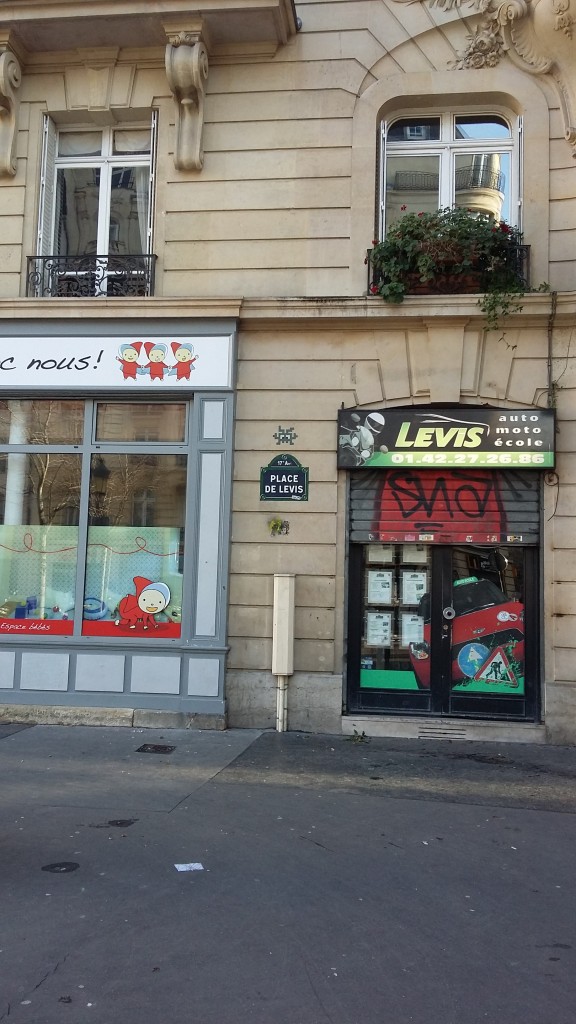 Les Batignolles was annexed to Paris by Napoleon III, the nephew and heir of our old friend, Napoleon Bonaparte. Napoleon III, or Louis Napoleon, was also the one who began the modernisation of Paris, making it the city as we know it today. In the process he was assisted by the famous Georges Eugène Haussmann. Please be more sensible than I was who proceeded pronouncing his name in the strict sounding German way, the French pronunciation is closer to that of "Osman" from the "Osman Empire."
The population of Paris grew rapidly in the middle of the 19th century, that is why Napoleon III decided to enlarge the area of Paris. In 1860 he annexed a number of surrounding towns and merged them with Paris, thus augmenting the number of arrondissements from twelve to twenty. Louis Napoleon also had two new railway stations built: Gare de Lyon and Gare de Nord. I can't help but be fascinated by him, I love reforms and great building works. The second part of the 19th century is my favourite part in history, let it be the history of Hungary, France or Great Britain.
Napoleon III was also a fan of gardens and parks. He spent some years in London in exile and often strolled in Hyde Park, which he actually used as a model for the Bois de Boulogne. He built three other big parks and refurbished some other great parks, for example the Parc Monceau we visited during our tour. He also created around twenty smaller parks, striving to have a green area for every eight neighbourhoods, meaning that nobody would have to walk more than ten minutes to get to a park. (Source: Wikipedia)
You will see from the pictures of the tour that urban gardens and parks seem to be a recurring pattern.
The Square de Batignolles is an English style garden and the biggest green space in the 17th arrondissement. When we were there it was full of families, children running around and people enjoying the early spring sunshine.
The Martin Luther King garden was originally destined to be the place of the Olympic village but Paris lost to London. It's a nice developing housing area with solar panels and a small wind turbine. Metro Line 14 is planned to be extended to serve the inhabitants of the planned 3400 flats.
The Parc Monceau, established by Phillipes d'Orleans in 1779, belongs already to the 8th district and not the 17th. It was designed by a writer and painter called Louis Carrogis Carmontelle as a Anglo-Chinese or English garden. When ready "It contained a miniature Egyptian pyramid, a Roman colonnade, antique statues, a pond of water lilies, a tatar tent, a farmhouse, a Dutch windmill, a temple of Mars, a minaret, an Italian vineyard, an enchanted grotto, and "a gothic building serving as a chemistry laboratory," as described by Carmontelle. In addition to the follies, the garden featured servants dressed in oriental and other exotic costumes, and unusual animals, such as camels." (Source: Wikipedia and Jarrassé,Grammaire des Jardins Parisiens, pg. 76) The park was also the site of the first silk parachute jump and Claude Monet painted a series of paintings here.
This week I'm also going to a Knight's Templar tour with Wan from the Napoleon tour and an "Explore the hidden streets of Paris" tour with Withlocals.
Finally let's listen to an Yves Duteil song from the 70s. The title, not so surprisingly is Les Batignolles.