Monstrous Monday
Monday hadn't left her lair for weeks. She hid in the darkness, talking to a heap of cuddly toys.
"Everybody hates me," she said, smearing a fat teardrop with her claw. Mr. Brocco, the emo Broccoli listened to her with sympathy. Everybody hated him too, especially children.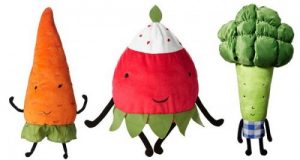 "I just couldn't take it anymore! We're seven, all from the same mother. Do people hate my brothers and sisters? Nope. They dote on Fri and Sat. They only like Sun a bit less because they know that I'm coming after him.
Mr. Bean-Fox, the procrastination expert, stared at her with his bead eyes.
"But this will teach them a lesson. They wanted to get rid of me. They can suit themselves. I know their nasty ways. I went on the net, Googled myself and found a zillion "Hate Monday" memes. Do you think there were any about Friday? Nope. It was just me."
 "I'm a monster," snuffled Monday and sneezed a flame which burnt the whiskers of Mr.Bean-Fox. "I'm miserable!"
The cuddly toys exchanged a weary glance because they knew what was coming. Monday launched into a performance of the well-known hits of Les Mis, and didn't stop until her voice was hoarse and the toys were begging her.
"Maybe her voice has to do with people's feelings," thought Ms. Overcooked Carrot, but she knew silence was gold.
"Let's watch the news," whispered Monday and they could feel some malevolence in her voice.
"Chaos plagues the working world," said a reporter on CNN breaking news, "With the disappearance of Monday, there is a black hole between Sunday and Tuesday. People don't know if they should go to work or stay home. Flights get cancelled, meetings are rescheduled. The agents of the FBI are already tracing the missing day, they are suspecting kidnap or an act of terrorism. Tuesday was asked to step in as temporary replacement but we all know it cannot continue like this. Monday, if you're out there watching this, send us a sign of life!"
"Hah, you can wait for that," said Monday and she turned off the telly with a satisfied little grin. "Now they miss me!" She lay down among her cuddly friends but her triumphant smile melted when she thought it was too dark for anybody to see.
Monday found the first video message next morning. She was browsing Youtube, looking for songs to brighten the mood of a monster in hiding. She almost clicked "Monday Morning" when she saw another video. "Message to Monday, S.O.S." She couldn't resist and opened the file. It was the vlog of a 15 year old girl called Sheena. She had curly red hair, braces and a huge crush on the school's coolest basketball player.
"Monday, you have to understand, my life is a misery without you. I hate weekends! They are 48 hours, 2880 minutes and 172800 seconds without any chance of seeing him! I just don't know what to do with myself, Saturday is a full-blown misery, Sunday is a bit better because I know that you're coming and bringing him to me but still. You're the one to bring me salvation. But now… how should I count the days? I'm lost without you! I don't care if he accidentally watches this and gets to my carefully kept secret. I want my hope, Monday, please!" In the end she held up a handmade poster with fat, pink hearts saying "We want you back!"
Monday was sobbing. "It's just hay fever," she said and the cuddly toys pretended to believe her.
The next surprise arrived when she opened the daily newspaper, which she got delivered to her very secret hiding place. The whole page of the classifieds was just one big ad. It was posted by a workaholic who always felt awkward during the weekends when he had to be with his family. By the end of Sunday his fingers were burning for a laptop and his brain was so full of figures and graphs. He just wanted to get back to the office. He always thought of Sunday night as a sort of weekly Christmas Eve, a time of happy anticipation. Now it was stolen from him! Instead of meetings he had to play tea party with her daughter and read books with his wife for her book club! He was cracking up. So in the classifieds he wrote: Dear lost Monday (or the kidnappers who are keeping her) I'm willing to pay a nice sum just to have my life back. I'm begging you!
Monday was never the kind of person whose love could be bought with money, but she was moved by the sentiment. She was on the verge of packing and going back to work when the ugly images of "Delete Monday" hoodies and mugs flooded her mind. She threw the paper in the corner and kept on sulking.
By the evening she became curious again. How was the world coping without her? She turned on the TV news. This time, there were no lovesick teenagers campaigning, there were no workaholic managers bribing. This time it was her younger brother, Tuesday, who gave an interview. He looked ill and tired, his eyes red, and his whole being radiated such tiredness that Monday's heart started to ache.
"I don't know how long I can last doing double shifts. I try for the good of people but everybody has limits, I will drop one of these days from lack of sleep. Dear Sister, I know you're watching this. Please, come back. People care about you, I care about you. You aren't a monster! Maybe not everybody likes you but that's all right too until the people you really care about accept you. Don't be mad at us and give us a miracle by returning." The camera moved away from him because he fell asleep – standing.
Monday sat on the cold floor for a while then she sighed and started packing.
This story is for the Storytime Blog Hop, hosted by lovely Juneta Key.
The story was originally published in Wonderlust zine by Sonya Cheney.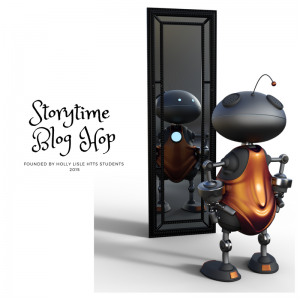 You can read the stories by the other participants here: