For this Nano (which hasn't been going great for the moment) I have decided to aim lower and try to complete a novella. Its working title is "The flight of mechanical swallows," but it will change if I find something better. It's a rewriting of Thumbellina and Frankenstein in the steampunk-ish setting of my alternative Victorian novel, Dreamless. In this story, the protagonist is an automaton who embarks on a journey of discovery to find out who they are. (Since it's an automaton with no gender, I think I will use the gender neutral pronoun they.)
What do you think about the idea?

On a tangentially related note:
Today marks the birthday of my favourite writer and literary dad, Neil Gaiman. His works (most notably Sandman, oh my glob!) are a constant source of inspiration for me. So much so that in Dreamless I shamelessly named a character after him.
The world of Dreamless is ruled by a Queen who never dies and England, just like many other Western European countries, adhere to the system of Freudian Darwinism, in which the imagination of lower classes have been limited (if not completely erased) for social stability. There is no poetry, no superfluous beauty and no dreams.
Nail is a businessman and a dream dealer (a.k.a. a sandman. I know, I know way too obvious, but whatevs, it's my story.) He likes to pride himself for staying aloof and not meddling into the affairs of others (think the Cat who walked by himself), but deep down he has a good heart and he will risk a lot to help people who have inadvertently become his friends.
So to celebrate Mr.Gaiman's birthday here is a little snippet from Dreamless:
"Do you believe in other worlds, Frances?" Nail asked.
"What do you mean? Things like Heaven and Hell? I'm not quite sure…"
"No. I know Hell exists. I mean worlds which are very much like our own and yet different. It's like living in an old and creaky mansion and although I've walked around every room and looked into every dark corner, I still have the feeling that there are secret rooms behind the walls. Only if I could find the loose brick that would open them. Do you see what I mean?"
"Not really…"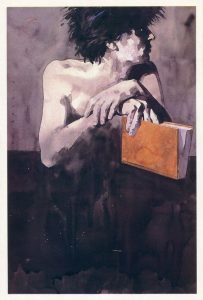 "Let me explain. Sometimes when I lie in my bed at night and in the moments  before darkness comes to reclaim me, I see glimpses of another world, another me. I am a family man with a young wife and children. But that's not the most surprising. The thing I like about these visions is that I can do things that I'd never be able to do here under the iron nose of the system.
I create worlds upon worlds for strange creatures to inhabit and I weave long tapestries of tales and there are all these people who then share my dreams and love them. On nights like this when the visions visit me, sleepiness flees my eyes and then I can't do anything else but stay there lying among my old yellow sheets, desperately trying to steal further glimpses of this magical world. I'd give everything I have to build a machine to travel there to find this other life, this other me. But I know that there is nobody living in this empire who would or could help me. I have to hide this fancy from everybody most of the time even from myself.